Let me jump right out of the gate and admit, before today, I have never heard of The Discarded. They're a small town classic garage punk-rock band out of Toronto. They sent me their new album Not From This Town, being released March 9th, 2019, and I immediately had to do some research. What I've read is that the three band mates are actually family members. Stolen from their bio, "Sixteen year old drummer, Caden Jax, twenty year old bassist, Jared Dean and veteran punk rocker J.P. on guitar and vocals."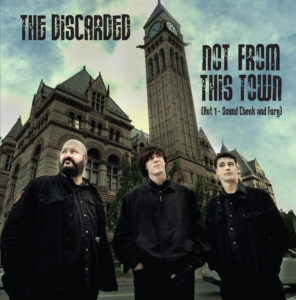 This is where the band became personal for me. My dad was a drummer in the 80s and whenever we get the chance, I break out the guitar, while he carries us with actual skill and we would continue to just blow out the windows of his basement.
While listening to their album I started to get some strange sense of nostalgia that I couldn't fully identify. The music reminded me of my dad driving me around in his Isuzu trooper in the late 90s early 2000s, blasting some songs from the 70s-90s. As I got to the end of their album, the track "Leg On His Shoulder", is when I thought to myself, "damn this sounds a lot like if Alice Cooper and The Ramones collaborated on "I Wanna Be Sedated". The Discarded definitely give you the feeling of the songs you loved meeting today's world.
Check out the band for yourself on their website in the link below and be on the lookout for Not From This Town.